A legal firm has filed a lawsuit against Rudy Giuliani for outstanding legal fees totaling more than $1.36 million.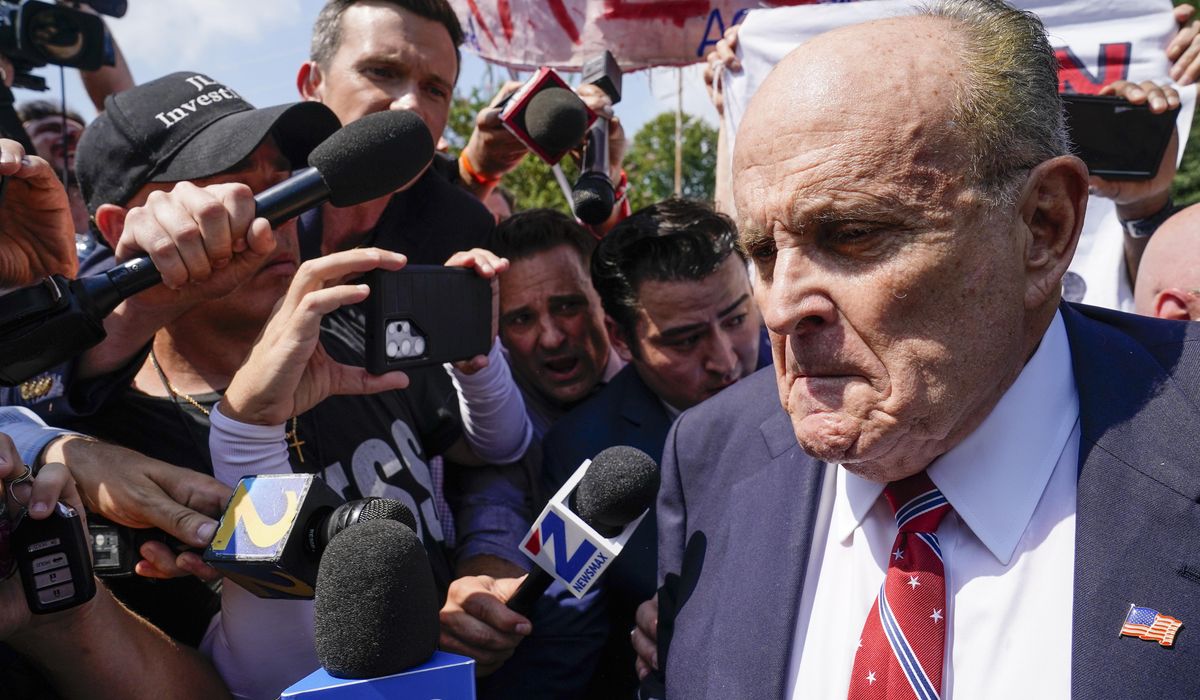 Rudy Giuliani's previous attorney filed a lawsuit against him on Monday, claiming that the former mayor of New York City has only paid a small portion of the almost $1.6 million in legal fees he has accumulated from investigations related to his attempts to support Donald Trump's presidency.
Robert Costello and his law firm, Davidoff Hutcher & Citron LLP, claim that Giuliani has only paid them $214,000 so far, leaving a remaining balance of $1.36 million. According to the lawsuit, Giuliani's most recent payment was $10,000 on September 14th, which coincided with a high-priced fundraiser for him hosted by Trump at his golf club in Bedminster, New Jersey.
Costello and the company allege that Giuliani, who was once highly regarded as "America's mayor" for his actions following the September 11, 2001, attacks, violated their agreement by not fully paying his invoices promptly. The lawsuit, which was filed in a Manhattan state court, aims to receive complete payment for Giuliani's outstanding bills, along with reimbursement for the expenses incurred in their attempts to collect the payment.
---
---
"I am deeply saddened by Bob Costello's actions," stated Giuliani on Monday, as conveyed by his spokesperson. "It is truly disappointing when lawyers behave in such a manner, and all I can say is that their charges far exceed any reasonable fees."
Giuliani's financial burden continues to increase, as evidenced by the lawsuit filed on Monday. This strain has been intensified by the expenses incurred from investigations, lawsuits, fines, sanctions, and damages associated with his efforts to assist Trump in overturning the 2020 election.
Last month, in Georgia, Giuliani, Trump, and 17 additional individuals were charged by Fulton County District Attorney Fani Willis for allegedly conspiring to undermine Joe Biden's victory in the election. Giuliani has entered a plea of not guilty to the charges, which accuse him of being Trump's main accomplice.
Costello, a partner at Davidoff Hutcher & Citron, was Giuliani's lawyer from November 2019 to July 2023. He represented Giuliani in matters ranging from an investigation into his business dealings in Ukraine, which resulted in an FBI raid on his home and office in April 2021, to state and federal probes of his work in the wake of Trump's 2020 election loss.
Costello and his company claimed in their legal action that they provided assistance in representing Giuliani in multiple civil lawsuits brought against him, as well as in disciplinary proceedings that resulted in the suspension of his legal licenses in Washington, D.C., and New York.
Last month, a judge found Giuliani responsible in a defamation lawsuit filed by two Georgia election workers. They claimed that he falsely accused them of fraud. As a result, Giuliani and his businesses have been ordered to pay over $130,000 in legal fees for the women.
Last week, Andrew Giuliani, Giuliani's son, stated that the Bedminster fundraiser was anticipated to generate over $1 million to cover Giuliani's legal expenses. Additionally, Trump had agreed to organize another event at his Mar-a-Lago club in Palm Beach, Florida, either in the fall or early winter.
Meanwhile, Giuliani has been attempting to raise funds through alternative methods.
In July, he listed his Manhattan apartment for sale at a price of $6.5 million. Following his indictment, he guided his social media followers to visit his legal defense fund's website. In order to cut costs, Giuliani has chosen to personally handle certain legal conflicts.
Giuliani faced the possibility of imprisonment last year when a judge warned him about an ongoing financial disagreement with his third ex-wife, Judith. Giuliani claimed that he was gradually settling the debt, which she alleged amounted to over $260,000.
In May, a woman who claimed to be employed by Giuliani filed a lawsuit against him, accusing him of owing her almost $2 million in unpaid wages and of forcing her into a sexual relationship. Giuliani refuted these claims.
Copyright © 2023 The Washington Times, LLC.