According to a report from the United Nations, settler violence in the West Bank has resulted in the displacement of more than 1,100 Palestinians since 2022.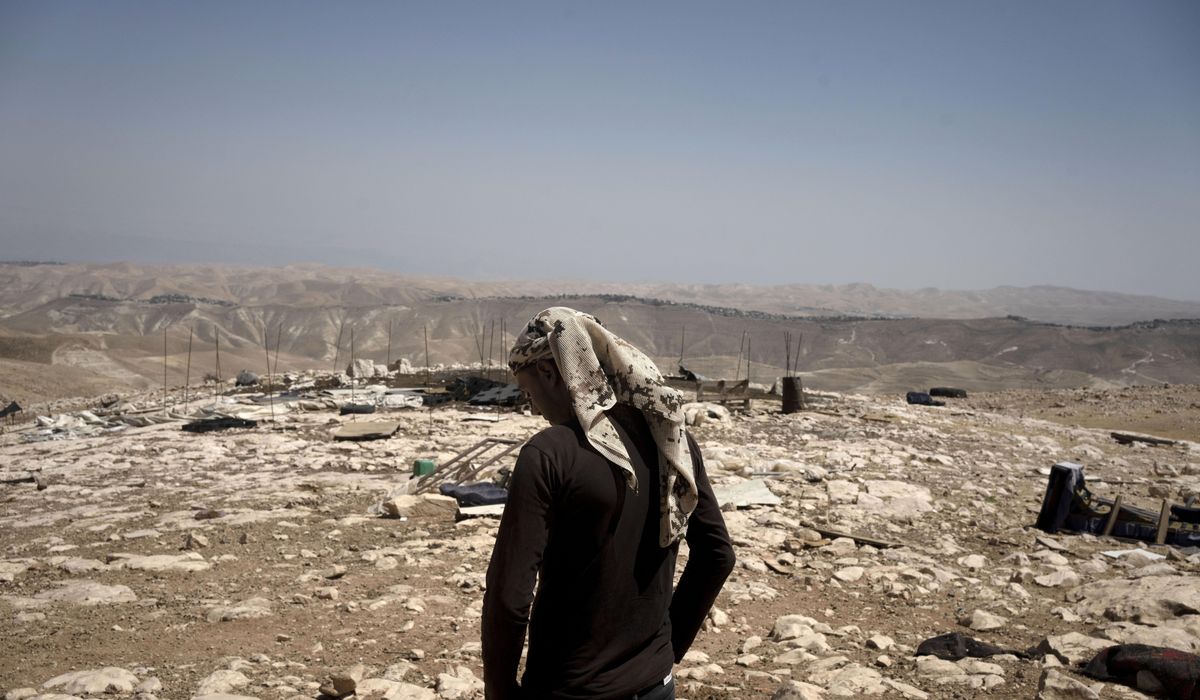 JERUSALEM — Violence from Israeli settlers has displaced over 1,100 Palestinians in the occupied West Bank since 2022, according to a U.N. report released Thursday, with officials describing the exodus as unparalleled in recent years.
The report recorded approximately three occurrences per day in the West Bank that were related to settlers – this is the highest average per day since the U.N. started documenting this trend in 2006. The violence has resulted in the complete evacuation of five Palestinian communities. Additionally, six communities have witnessed half of their residents departing, while seven communities have experienced a quarter of their population fleeing, as stated in the report.
Palestinians claim that the aggression from extremist Israeli settlers has escalated to an alarming level as Israeli settlements continue to grow under the leadership of Benjamin Netanyahu's far-right government.
---
---
Lynn Hastings, the humanitarian coordinator for the occupied Palestinian territory, stated that the U.N. has documented an unprecedented amount of violence by settlers against Palestinians this year. She emphasized that while the humanitarian community is addressing their immediate needs, there would be no requirement for such assistance if their basic rights were respected.
Those who have left their homes say that attacks on their grazing lands and violence from settlement outposts – many of which are recently established on hilltops ringing rural Palestinian villages – prompted them to pull up stakes permanently.
According to experts, the trend is reshaping the geographical layout of the West Bank and weakening the chances of establishing a sovereign Palestinian state. The Palestinians aspire to have control over the West Bank, east Jerusalem, and the Gaza Strip, which were occupied by Israel during the 1967 Mideast conflict, as part of their future independent nation.
According to the report, the villages that have been impacted primarily depend on herding and agriculture as their main source of income. The majority of these communities have been forced to sell some of their livestock, and 70% of them have resorted to borrowing money in order to afford artificial feed. This situation arose due to settler incursions that have restricted their access to grazing lands.
More than 33% of the inhabitants have stated that they have altered their means of living, with a few completely abandoning the profession of shepherding.
According to the report, the Palestinian regions that experienced the most significant decline in population were located in areas where there were a large number of settlement outposts.
COGAT, the Israeli defense body responsible for Palestinian civilian affairs, did not respond to a request for comment.
Settlement expansion has been promoted by successive Israeli governments over nearly six decades, but Netanyahu's far-right government has made it a top priority. Settler firebrand and powerful Finance Minister Bezalel Smotrich now oversees settlement policy and has vowed to step up construction and legalize outposts built without authorization.
The international community overwhelmingly views settlements as illegal and a major obstacle to peace. President Joe Biden met with Netanyahu on Wednesday on the sidelines of the U.N. General Assembly, raising concerns about the Israeli government's treatment of the Palestinians.
During their initial encounter since Netanyahu assumed office recently, Biden advised Netanyahu to implement measures that would enhance the situation in the West Bank, which is currently experiencing increased violence. A high-ranking U.S. official, who requested anonymity to discuss the confidential discussions, verified that Biden expressed his concerns about the violence perpetrated by settlers during the meeting.
Palestinians who have been forced to leave their homes state that Israeli authorities, who are responsible for governing the area, seldom take action in response to incidents of settler aggression. Based on information from the United Nations, almost all the affected communities have reported their grievances to the authorities, yet only 6% have received any form of response from the Israeli authorities regarding their complaints.
The rise in settler violence comes at a time of heavy Israeli-Palestinian fighting in the area.
Israeli gunfire has resulted in the deaths of approximately 190 Palestinians this year. While nearly half of them were associated with militant groups, there have also been casualties among young protesters throwing stones during military incursions, as well as innocent bystanders not involved in the confrontations. Additionally, Palestinian attacks on Israelis have claimed the lives of over 30 individuals.
Copyright © 2023 The Washington Times, LLC.