Blinken has a meeting with the Chinese Vice President as the communication between the United States and China intensifies in anticipation of a potential summit.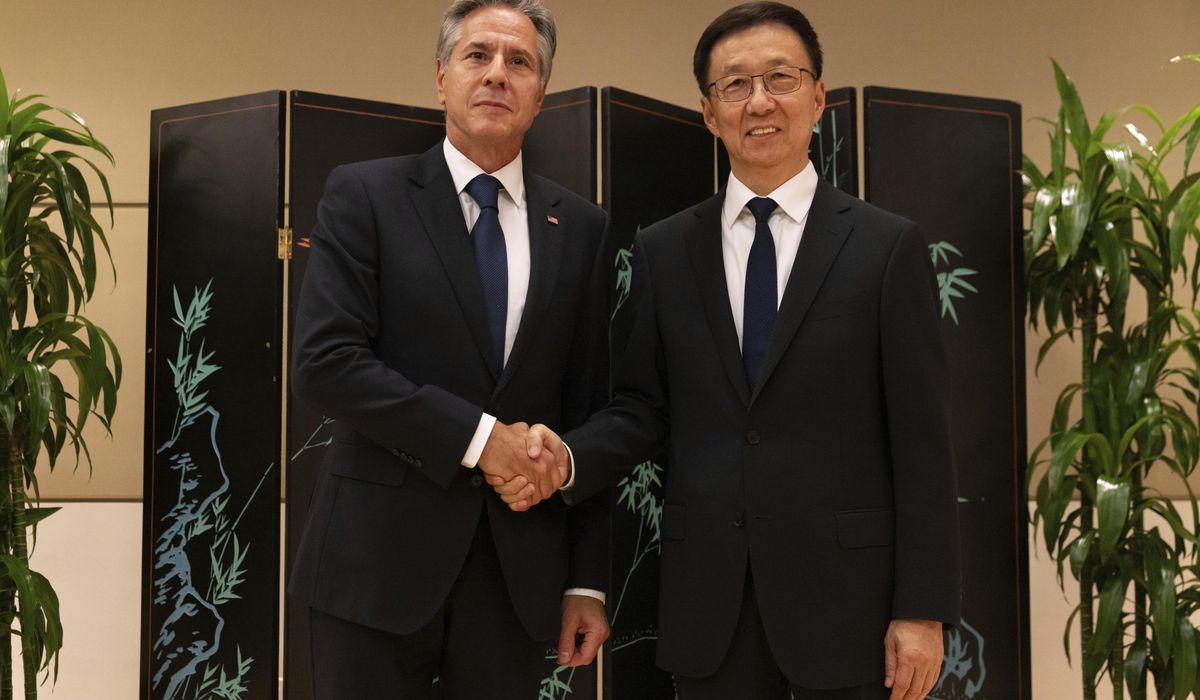 NEW YORK — Secretary of State Antony Blinken met Monday with China's vice president on the sidelines of the U.N. General Assembly as the Biden administration and Beijing step up high-level contacts ahead of what could be a leader-level summit this fall.
Blinken and Vice President Han Zheng engaged in discussions on Monday at the Chinese mission to the United Nations. Meanwhile, China's Foreign Minister Wang Yi was in Moscow, meeting with Russian Foreign Minister Sergey Lavrov, following his two-day talks with U.S. national security adviser Jake Sullivan in Malta.
There is speculation that President Joe Biden and Chinese President Xi Jinping may meet in November at an Asia-Pacific Economic conference in San Francisco due to the frequent U.S.-China contacts.
---
---
"I believe it is beneficial that we can utilize this chance to further develop the recent important interactions between our nations. This allows us to uphold transparent communication and showcase our responsible approach in managing the relationship between our two countries," stated Blinken briefly at the beginning of the meeting.
Han informed Blinken that the relationship between the United States and China encounters obstacles and complexities, necessitating a greater display of honesty and additional endeavors from both nations to find a middle ground.
Blinken visited Beijing over the summer after canceling a planned trip there in February following the shootdown of a Chinese surveillance balloon over U.S. territory. Blinken was followed to Beijing by Treasury Secretary Janet Yellen, climate envoy John Kerry and Commerce Secretary Gina Raimondo.
Blinken stated that, according to the United States, engaging in direct diplomacy is the most effective approach to address disagreements and explore areas of collaboration. He emphasized the importance of responsibly managing the relationship, as it is a global expectation. The United States is fully dedicated to fulfilling this commitment.
The White House said Sunday that Sullivan's meeting with Wang in Malta was intended to "responsibly maintain the relationship" at a time of strained ties and mutual suspicion between the rival powers. It said the pair had "candid, substantive and constructive discussions."
The White House stated that Sullivan and Wang had a conversation about the connection between the two nations, security matters on a global and regional scale, Russia's involvement in Ukraine's conflict, and tensions in the Taiwan Strait. They also talked about artificial intelligence, efforts to combat drug trafficking, and the situation of U.S. citizens currently held in China.
Following those discussions, Wang promptly journeyed to Russia to engage in a series of security consultations with high-ranking Russian authorities.
As relations with the West have worsened, China and Russia have strengthened their ties. China is seeking support to change the current international order led by the U.S. into a more favorable one for its own approach. Recently, it played a role in expanding the BRICS partnership, inviting six additional countries to join the existing five-nation bloc that consists of China and Russia.
The U.S. and China are at odds over Russia's military action in Ukraine. China has refrained from taking sides in the conflict, saying that while a country's territory must be respected, the West needs to consider Russia's security concerns about NATO expansion. It has accused the U.S. of prolonging the fighting by providing arms to Ukraine, weaponry that the U.S. says Kyiv needs to fight back against Russia.
Wang's trip to Moscow also came a day after North Korean leader Kim Jong Un left Russia following a six-day visit that included talks with President Vladimir Putin at a far eastern spaceport, visits to aircraft plants and inspections of nuclear-capable strategic bombers and an advanced warship. Kim's trip fueled Western concerns about an arms alliance that could boost Russian arsenals for fighting in Ukraine.
Copyright © 2023 The Washington Times, LLC.