Blu-ray movie reviews: 'Violent Night' and 'The Menu'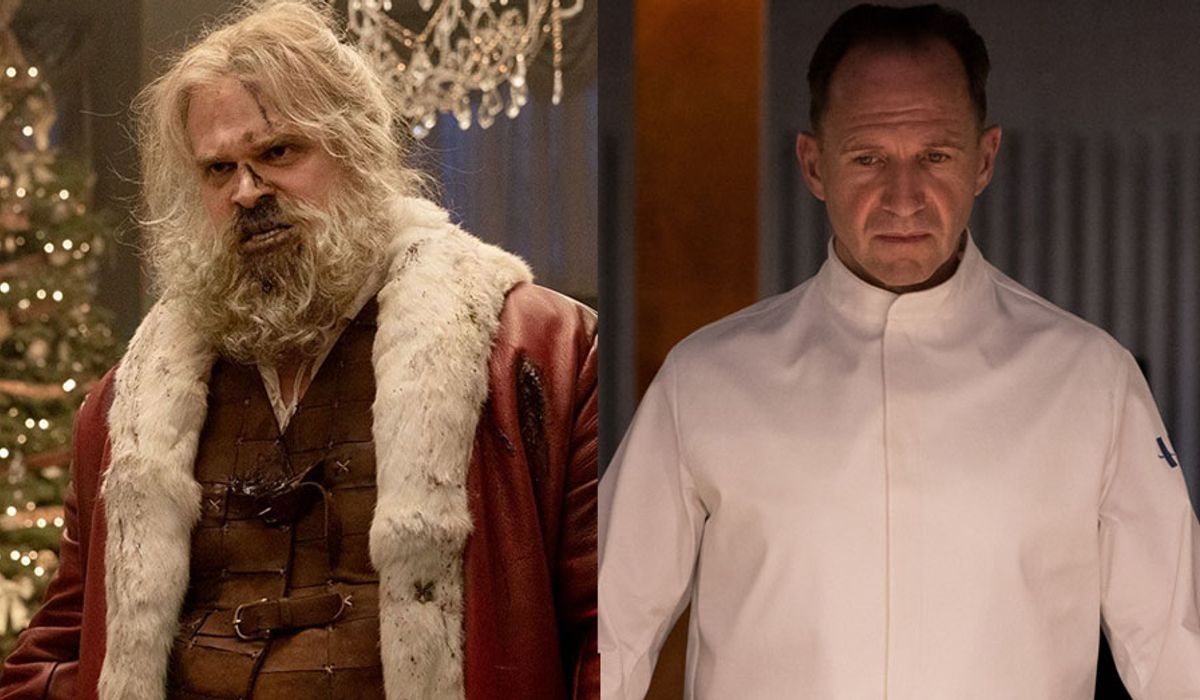 Here's a look at a couple of dark, R-rated satires available in the high-definition format.
Violent Night (Universal Studios Home Entertainment, rated R, 2.39:1 aspect ratio, 112 minutes, $24.98) — Answering the age-old question "was Santa Claus a disgruntled Viking raider?" comes director Tommy Wirkola's action-packed dark comedy from late last year now available in the high definition disc format.
This unusual exploration of Christmas' famed icon takes viewers on a brutally violent journey after meeting the highly dysfunctional, rich and greedy Lightstone family and their controlling, foul-mouthed matriarch Gertrude (Beverly D'Angelo).
Home for the holidays, the bickering clan that includes disgruntled son Jason (Alex Hassell), his estranged wife Linda (Alexis Louder) and their sweet and normal 7-year-old daughter Trudy (Leah Brady) come under siege by a team of mercenaries out to crack a safe within mom's compound containing $300 million.
Unfortunately for the bad guys, they run into Santa (David Harbour) stranded on the grounds on Christmas Eve and put into a position to defend himself. He eventually teams up with Trudy to save the naughty family.
Mr. Harbour shines as the jolly, but surprisingly in shape, fat man smiting foes with a Christmas star, icicles and even a lethal candy cane. Equally chewing up the frosty scenery was John Leguizamo as the villainous leader Scrooge.
Especially humorous was a flashback of Santa, formerly Nickamund the Red, in action as a Viking raider wielding his famed skull-crusher hammer.
Mr. Wirkola's magical formula borrows from "Die Hard," a hero in the wrong place at the wrong time while adding a pinch of "Home Alone" to deliver a heartwarming but vicious twist on the holiday film.
Best extras: Viewers will most welcome an optional commentary track offering the giddy expertise of Mr. Wirkola, producer Guy Danella and writers Pat Casey and Josh Miller.
They laugh aplenty as they talk nonstop exploring the performers, stunts, the comedy, sound effects, integrating stunt people in the cast, effects shots, budgeting for real and digital reindeer, Mr. Harbour's commitment as Santa and mockingly mentioning the Bristol shooting location as the New Jersey of England. It's a very spirited track and worth enjoying.
Additionally, four featurettes (roughly 16 minutes total) are on the disc covering Mr. Harbour becoming Santa; the overall production (including even words from the head of the greens department); a look at the story; and the close-quarters combat.
The Menu (20th Century Studios Home Entertainment, rated R, 2.39:1 aspect ratio, 106 minutes, $29.99) — Director Mark Mylod's horrifyingly appetizing, 2022 macabre satire for lovers of the creepiest of gastronomic experiences moves to the Blu-ray format.
A bizarre story follows the adventure of young couple Margot and Tyler (Anya Taylor-Joy and Nicholas Hoult) traveling to a remote island culinary compound named Hawthorne.
For a high cost, they are privy to dine with a select group at an exclusive restaurant run by an eccentric celebrity chef Julian Slowik (Ralph Fiennes), known for preparing an exceedingly select and lavish menu for ultra-snobbish guests.
The multihour, roughly seven-course dinner soon becomes a nightmare as the chef introduces his dishes with a twist for his unlucky epicureans such as personalized tortillas with incriminating information etched on them about each guest or a sous chef committing suicide in front of them.
Mr. Fiennes devours the role, mixing his trademark slow-burning, methodical acting style with monologues that get more frantic as he introduces each course.
This twisted homage to an extreme cooking show is worth every bite and comes handsomely supplemented with performances by Judith Light, John Leguizamo and Janet McTeer as the guests.
Fast-food lovers will also love the ending that allows them to embrace the pretentious foodies' ultimate misery.
Best extras: Viewers get a 17-minute overview of the production, broken into three courses (very clever) covering the role of world-renowned chef Dominque Crenn in creating the menu and keeping the cooking authentic; costuming; and the cast and story highlighted mainly by comments from the director and Mr. Fiennes.
Also, a trio of deleted scenes, about five minutes in total, offer more backstory on the chef and characters. The chef's backstory should have remained in the film as it would have really helped shed light on his motivations.