California Governor Newsom is enhancing his reputation in the fight against climate change by taking legal action against major oil companies. This move comes at a time when California is facing difficulties in reducing its reliance on fossil fuels.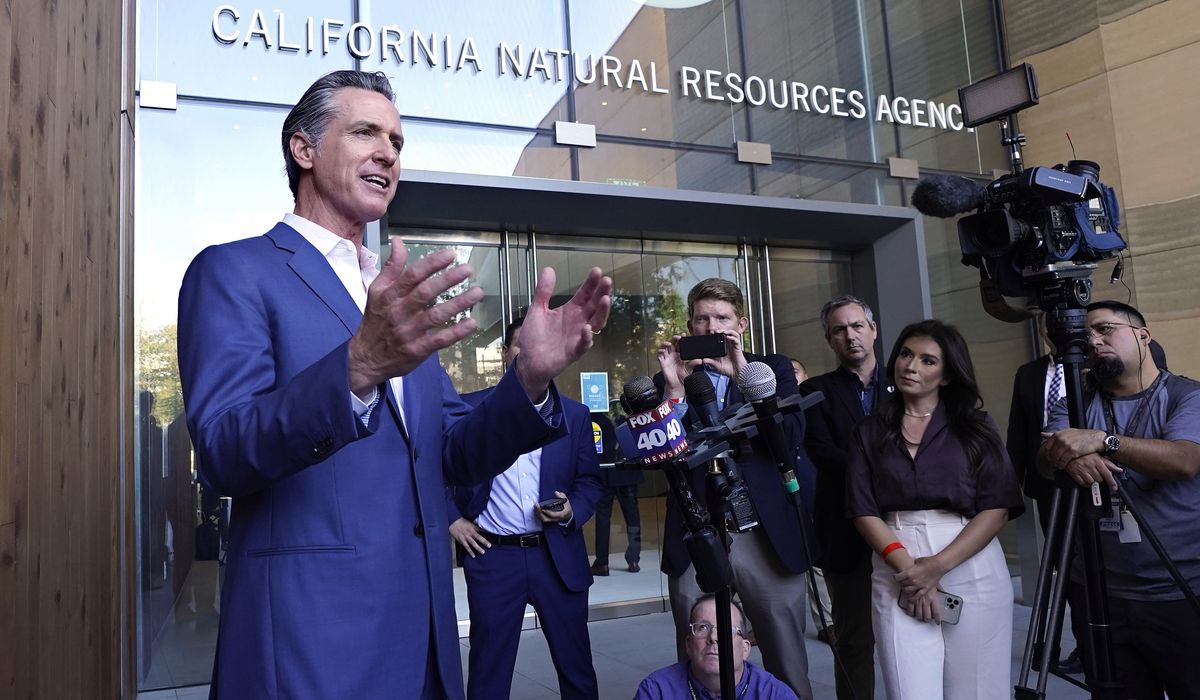 California Governor Gavin Newsom started Climate Week by taking aggressive legal and legislative actions to strengthen his commitment to green energy. This move aims to address the criticism that his administration has not effectively followed through on its promise to move away from fossil fuels.
The Democratic governor joined the movement of climate lawsuits by declaring that California has filed a lawsuit against five prominent energy companies – Exxon, Chevron, BP, ConocoPhillips, and Shell. The lawsuit claims that their dishonesty and attempts to hide the truth about fossil fuels have resulted in significant financial losses for the state due to natural disasters and higher healthcare expenses.
"I cannot reword"
---
---
He also mentioned his intention to approve two ambitious bills currently on his desk. The initial bill would mandate that companies generating over $1 billion in annual revenues disclose their emissions. The second bill would require firms earning more than $500,000 to disclose their climate-change risks and outline their strategies for addressing them.
Fossil-fuel advocates promptly accused Mr. Newsom of grandstanding with his lawsuit against "Big Oil," arguing that climate policy should be determined by Congress rather than the courts.
Ryan Meyers, senior vice president and general counsel of the American Petroleum Institute, stated that the industry has successfully accomplished its objective of supplying affordable and dependable energy to American consumers over the past twenty years. Additionally, he emphasized that emissions and environmental impact have been significantly reduced during this period.
He stated that the current, organized effort to file baseless, politically motivated lawsuits against a fundamental American sector and its employees is simply a diversion from crucial national discussions and a significant misuse of California taxpayer funds.
However, the legal action earned Mr. Newsom praise from environmental organizations, an important group within the Democratic Party that has expressed concerns about the state's efforts to shift away from fossil fuels towards renewable energy sources.
Sierra Club California Director Brandon Dawson stated that it is essential and vital to hold Big Oil responsible for their prolonged deceit in order to safeguard California communities from the impacts of the climate crisis. Dawson commends Governor Newsom and Attorney General Bonta for taking legal action, which solidifies California's position as a frontrunner in the battle against climate change. Sierra Club California expresses its support and appreciation for these endeavors.
Mr. Newsom's two-pronged announcement also lowered the temperature on complaints that his administration has been too gas-friendly.
Three weeks ago, the five Newsom-appointed members of the California Public Utilities Commission voted to allow Southern California Gas to expand capacity at Aliso Canyon storage facility, frustrating environmentalists who called the move a step in the wrong direction.
Andrea Vega, organizer for Food & Water Watch Southern California, stated on Aug. 17 that the purpose of expanding storage at Aliso Canyon is to benefit SoCalGas executives rather than lower rates for our community. It is now crucial for Governor Newsom to fulfill his campaign pledges and close this hazardous facility.
Last year, despite opposition from climate organizations, the State Water Resources Control Board decided to maintain the operation of three natural gas plants in Southern California. Additionally, the Diablo Canyon nuclear plant will continue to operate, despite Mr. Newsom's previous stance on its closure.
Mr. Newsom's actions illustrate his efforts to prevent power outages while California aims to achieve its goal of 100% renewable energy and net-zero carbon emissions by 2045.
Mr. Newsom isn't the first to sue the fossil-fuel industry for allegedly misleading consumers on the risks of climate change — Massachusetts, Minnesota, New Jersey and about two dozen left-of-center cities beat him to it — but California's entrée had climate groups predicting more states would follow.
"I cannot reword"
The lawsuit alleges that prominent oil and gas companies were aware of the risks linked to increasing levels of carbon dioxide in the atmosphere, but intentionally concealed their research and disseminated false information to safeguard their business strategies and enhance financial gains.
Last week, a report by the Wall Street Journal revealed that Exxon executives engaged in discussions on how to downplay concerns about rising temperatures. The report referred to internal documents that were submitted as part of a legal case in New York.
In its 2015 series titled "Exxon Knew," InsideClimate News claimed that the company fostered skepticism towards climate research that had been confirmed by its own scientists. However, proponents of the industry argue that this research aligned with the publicly accessible conclusions of the mainstream scientific community.
If Exxon had knowledge, then critics argue that California, a state that ranks among the top 10 oil producers, also had knowledge.
"I cannot reword."
The climate lawsuit initiative faced an initial setback when a federal judge dismissed a lawsuit in 2018 that was filed by New York City, stating that the issue of climate change should be addressed by the legislative and executive branches.
In 2019, the New York Supreme Court made a decision in favor of Exxon regarding the charges filed by former Attorney General Eric Schneiderman. These charges were brought as a part of a no longer active multi-state initiative known as AGs United for Clean Power.
States that have filed lawsuits have been advocating for the cases to remain in state court, whereas oil and gas companies have been attempting to transfer them to federal court.
Last year, the Suffolk Superior Court ruled against Exxon's motion to dismiss the case filed by Massachusetts Attorney General Maura Healey.
Myron Ebell, director of the Competitive Enterprise Institute's Center for Energy and Environment, said there are "dozens of copycat climate lawsuits, and the only surprise about the latest is that it's taken the state of California so long to file."
Mr. Ebell stated that there are multiple motives behind California's decision to file another lawsuit that can be considered a nuisance. These include providing publicity for Governor Newsom and Attorney General Bonta, allowing mainstream media to reiterate baseless allegations that have been made in previous lawsuits, and causing the defendants to incur significant legal expenses amounting to tens of millions of dollars.