DeSantis launches blitz in Iowa, N.H., S.C. as primary fight gets underway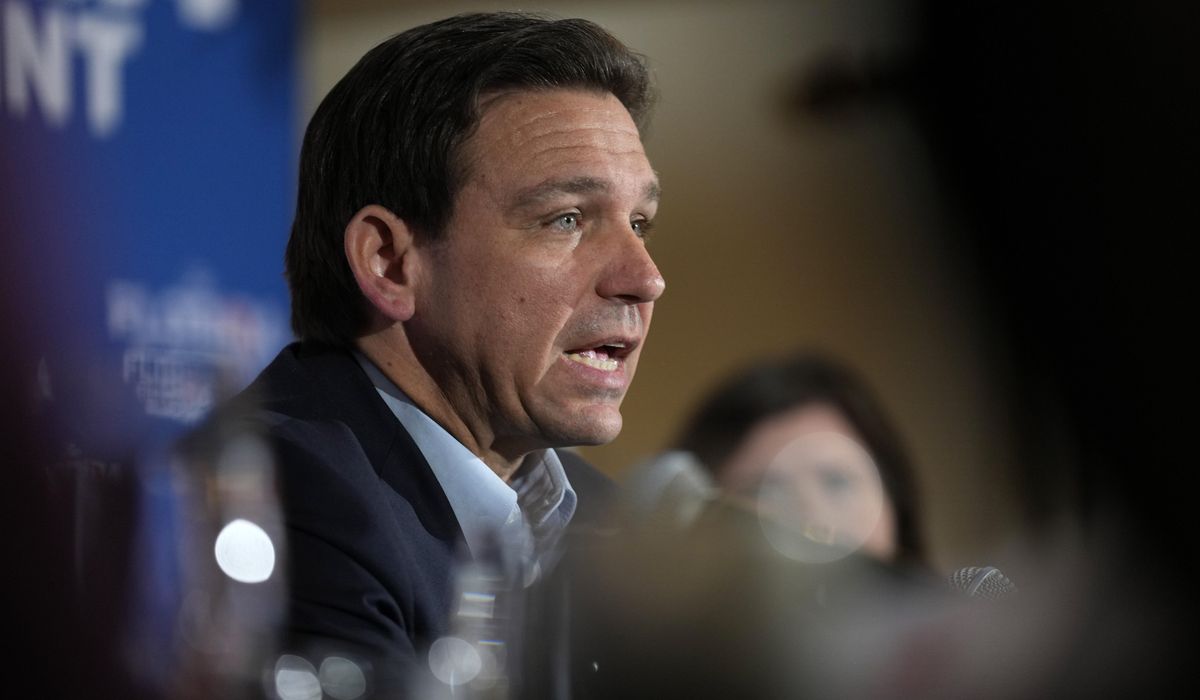 Florida Gov. Ron DeSantis will blitz the early primary states of Iowa, New Hampshire and South Carolina next week as his 2024 challenge against former President Donald Trump gets underway in earnest.
The tour will kick off Tuesday in Des Moines and feature four stops in Iowa on Wednesday, four in New Hampshire on Thursday and three in South Carolina on Friday.
"Our campaign is committed to putting in the time to win these early nominating states. No one will work harder than Governor DeSantis to share his vision with the country — he has only begun to fight," campaign manager Generra Peck said Thursday.
Mr. DeSantis filed paperwork to run for president on Wednesday.
He rolled out his bid in a pre-recorded video pledging a "great American comeback" and promising to "right the ship" that is foundering under President Biden.
"Our border is a disaster. Crime infests our cities. The federal government makes it harder for families to make ends meet. And the president flounders," Mr. DeSantis says in the new video. "But decline is a choice. Success is attainable. And freedom is worth fighting for."
---
SEE ALSO: Twitter event botched, DeSantis launches 2024 bid in video pledging 'great American comeback'
---
Mr. DeSantis was slated to speak about his candidacy live on Twitter Spaces alongside Twitter owner Elon Musk, but the platform repeatedly crashed after more than half a million listeners logged on.
Mr. Trump relished the glitches, saying it reflects the DeSantis effort.
"I know Ron. The way he handled his announcement, he will handle the Country!" Mr. Trump wrote on Truth Social. "Is the DeSantis launch FATAL? Yes!"
The DeSantis campaign tried to brush off the technical problems, saying it "broke the internet" because interest in the candidate is so high.
An Emerson College Polling survey of Iowa voters released Thursday found 62% of GOP voters support Mr. Trump at this point, compared to 20% for Mr. DeSantis.
The poll was conducted from May 19 to May 22, or shortly before Mr. DeSantis's launch, and had a margin of error of plus or minus 4.6 percentage points.
The poll said former South Carolina Gov. Nikki Haley drew 5% of GOP voters in Iowa, and Sen. Tim Scott of South Carolina brought in 3%.
Businessman Vivek Ramaswamy got 2%, and former Arkansas Gov. Asa Hutchinson registered 1%.
CNN announced that Mrs. Haley will participate in a CNN town hall on June 4 in Iowa. The event will be moderated by CNN correspondent Jake Tapper at 8 p.m. and is the second in a series of town halls with Republican candidates after an event with Mr. Trump in New Hampshire.
Mr. Scott, meanwhile, launched his campaign in South Carolina this week by saying his life story makes him "uniquely qualified" to push back on liberal ideas.
The senator chastised the hosts of ABC's "The View" for saying that he, a successful Black conservative, has "Clarence Thomas syndrome" and doesn't understand systemic racism.
"When you tell young African American kids that there's no chance to make it to the top unless you're the exception, that is a lie from the pit of hell," Mr. Scott told Fox News' Sean Hannity on Wednesday. "We need to tell kids the truth, that in America you can go as high as your character, your talent, and your grit will take you."