DOJ drops plans to forbid federal agents from considering nationality in criminal investigations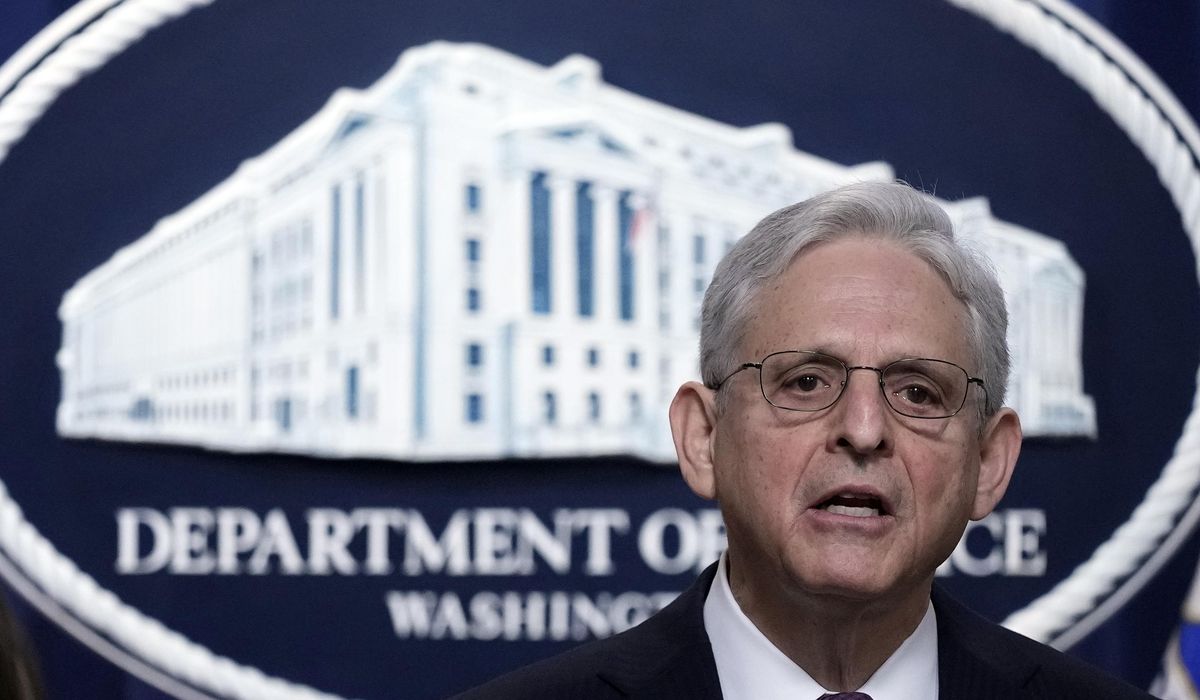 The Biden administration has backed off a proposal that would have barred federal law enforcement agents from considering a suspect's nationality or ethnicity in criminal investigations.
Updated anti-discrimination guidelines announced by the Justice Department do not include nationality as a "protected characteristic" that investigators would be prohibited from taking into account. An earlier draft of the proposed policy, obtained by The Washington Times, showed the administration was preparing to add nationality to its protected list, raising concerns that such a move would tie the hands of investigators in terrorism cases.
The final guidance, released Thursday, disappointed some progressive groups that had been pushing the administration to include nationality as a protected characteristic to further discourage racial profiling.
---
---
"The policy leaves in place a highly discretionary standard for when its personnel can apply factors such as race, religion or ethnicity in the course of their duties," said Faiza Patel, senior director of the Liberty and National Security Program at the Brennan Center for Justice at New York University Law School. "Too many Americans will still experience discrimination unless the department ensures that this gray area isn't abused."
A coalition of 50 progressive groups including the Brennan Center had urged the administration to ensure that "nationality and national origin are not used as a proxy to discriminate against people based on their race, ethnicity or religion."
The updated rules were released on the anniversary of the death of George Floyd in 2020 at the hands of Minneapolis police. The guidelines were last updated in 2014. President Biden issued an executive order last year directing the department to issue new guidance.
Nationality was not a "protected characteristic" in the 2014 guidelines, either.
Attorney General Merrick B. Garland said the new rules will accomplish the goal of prohibiting racial profiling by federal law enforcement agencies.
"While our work is not done, we are proud of the important changes we have made over this past year to update our internal policies and better provide our state and local partners with the resources and support they need to keep communities safe from violent crime, advance transparency, and build community trust," Mr. Garland said. "As we remember the life of George Floyd on the third anniversary of his death, the Justice Department renews our commitment to advancing accountability in law enforcement and safeguarding the civil rights of all Americans. We recognize that we have a responsibility to lead by example."
Mr. Patel said the Justice Department will need to redouble efforts to monitor and measure whether the new policy is working.
"Given the longstanding record of government agencies profiling Black and brown people, the department now has the responsibility to make sure that Americans aren't wrongly targeted and to convince the public — especially communities of color — that its policy is preventing invidious discrimination," he said.
Mr. Biden marked the third anniversary of George Floyd's murder by urging Congress to pass legislation that would overhaul policing. He said it is the only way to achieve "lasting change at the state and local levels."
Floyd was murdered on May 25, 2020, by Minneapolis police officer Derek Chauvin, who kneeled on his neck for more than 9 minutes. The death, recorded on video, sparked outrage across the country, protests against police brutality and calls to increase policing accountability.
Chauvin was convicted of murder by a Minnesota court and sentenced to 22 years in state prison. He was later convicted in federal court of depriving Floyd's rights under color of law. He was sentenced to 21 years in federal prison.
The House in 2021 passed the George Floyd Justice in Policing Act, which would ban chokeholds, no-knock warrants and create a police misconduct database. The measure died in the Senate.
• Jeff Mordock contributed to this story.