Elizabeth Holmes: Inside the routine at the Federal Prison Camp in Bryan, Texas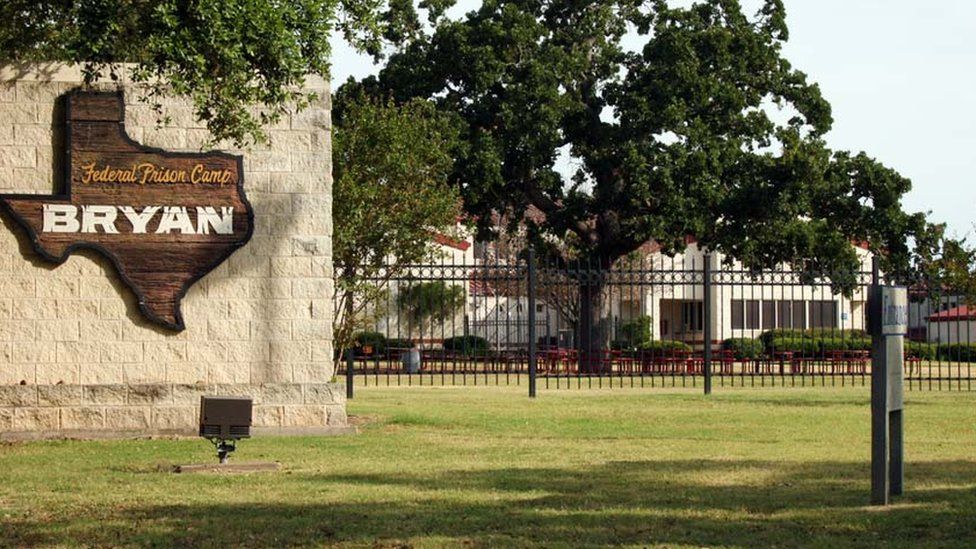 Theranos founder Elizabeth Holmes may soon be swapping California for a minimum-security women's prison facility, roughly 100 miles (160 km) from her Texas hometown.
The disgraced former CEO has been ordered to report to prison at the end of the month, and a judge has recommended she serve her over 11-year sentence at the Federal Prison Camp in Bryan, Texas (known as FPC Bryan).
This week, a judge rejected Holmes' latest bid to remain free while appealing against her conviction.
She was found guilty of defrauding investors in her blood-testing start-up last year.
Holmes has reportedly been spending her last free weeks in a rental home in San Diego, California with her partner, hotel heir William Evans, and their two young children, including a three month old.
Soon, she may be wearing khaki pants and a khaki shirt and getting an 06:00 wake-up call each day with other female inmates at FPC Bryan, according to a handbook for the prison.
The BBC has asked the prison for comment.
The facility, which sits on 37 acres, is home to more than 500 inmates – most of whom are serving time for non-violent offences and white-collar crimes.
Holmes, who grew up partly in Houston, Texas, would not be the first celebrity to spend time at the prison camp. Real Housewives of Salt Lake City Star Jen Shah is serving a six-and-a-half year prison sentence there for wire fraud.
The celebrity entrepreneur might have roommates in prison. Inmates are typically housed in dormitory-style two-person bunk beds, and four to eight person cubicles, according to Pink Lady Prison Consultants, a prison consulting group led by formerly incarcerated people.
Life at the federal facility is centred around work and extracurricular programmes, the prison handbook says.
All inmates are expected to work, and earn between 12 cents and $1.15 (£0.90) an hour for their jobs. Many are involved in food service and factory work.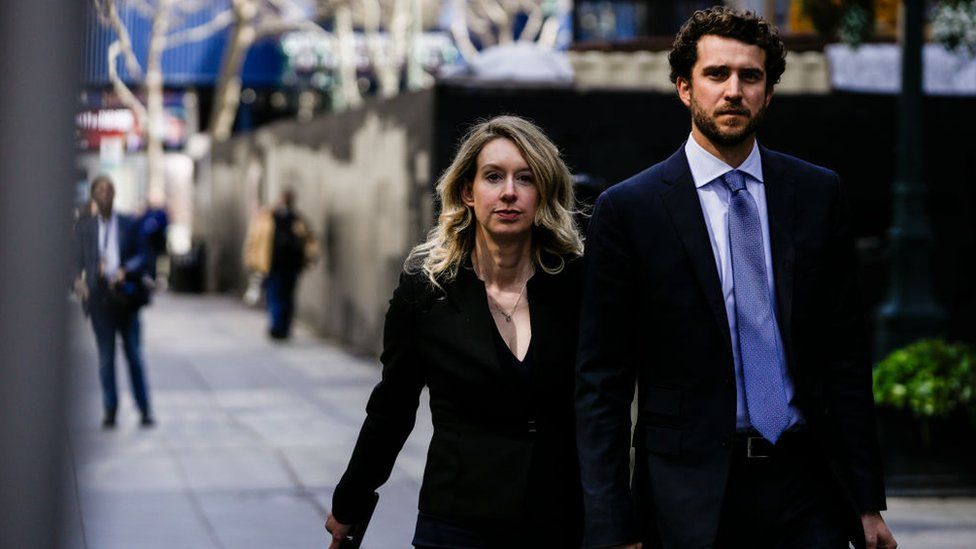 Outside of their work, female inmates can take classes on business skills and foreign languages, watch television, play sports and go to religious services, according to the handbook.
Holmes would be allotted an hour for each meal at the facility, which offers a standard Federal Bureau of Prisons menu, consisting of foods like chicken, hamburgers, hotdogs, tacos and macaroni.
As per the prison handbook, she could speak to her family via video calls. Inmates are also allowed visitors during weekends and holidays, but like other inmates, Holmes would be allowed limited physical contact with her partner and young children.
Rules at the female-only facility are also strict, the handbook says, adding that inmates are "treated in a mature and responsible manner" and are "expected to act accordingly".
Inmates can face disciplinary measures for a number of actions, including not keeping their cell or room neat, sleeping past the early designated wake-up hour, sharing their phone account with other inmates, and leaving an area during an official inmate rollcall, which happens five times a day.
Holmes' time behind bars will stand in stark contrast to her past life. Once lauded as the "next Steve Jobs", the start-up founder was said to be the world's youngest self-made billionaire, making the cover of Forbes and other prominent magazines.
She started Theranos shortly after dropping out of Stanford University. As the leader of the company, she raised millions of dollars from high-profile investors, including media mogul Rupert Murdoch and former US Secretary of State Henry Kissinger.
But the start-up fell apart in 2018 after it was revealed Holmes and other executives had lied about the company's technology. The blood-testing device was purported to be able to run a multitude of tests from just a few drops of blood.
In addition to serving time in prison, Holmes has been ordered to pay $452m to the victims of her fraud. She will split the amount with her former romantic and business partner, Ramesh "Sunny" Balwani, who started serving a 13-year sentence in prison in April.