Italy has given its approval for the establishment of a new facility to detain migrants. Discussions have also arisen regarding the potential implementation of a naval blockade to prevent the departure of boats carrying migrants.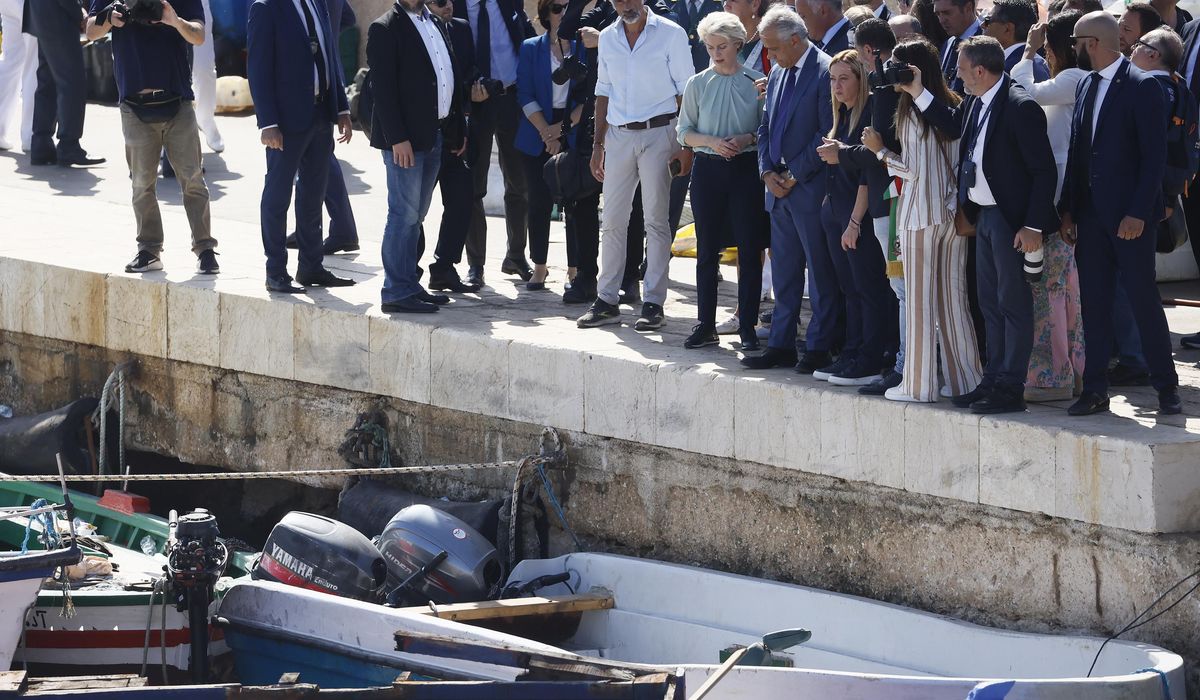 The Italian government has given its approval to new measures aimed at addressing the issue of migration. This decision comes after the island of Lampedusa experienced a large influx of migrants from Tunisia, causing the migration problem to once again become a major concern in Europe. There have been discussions about implementing a naval blockade to tackle this issue.
The measures endorsed by the Cabinet targeted migrants who are not eligible for asylum and are scheduled to be sent back to their countries of origin. The government has prolonged the duration of their detention to the EU maximum of 18 months. Additionally, there are plans to expand the number of detention centers to accommodate them, as the current capacity has always been inadequate and many of those who are supposed to be repatriated manage to travel further north.
Premier Giorgia Meloni announced the "extraordinary measures" after Lampedusa, which is closer to Tunisia in North Africa than the Italian mainland, was overwhelmed last week by nearly 7,000 migrants in a day, more than the island's resident population. Italy has been offloading them slowly by ferry to Sicily and other ports, but the arrivals once again stoked tensions on the island and in political corridors, especially ahead of European Parliament elections next year.
---
---
In the midst of political maneuvering within Italy and the European Union, Meloni revived her campaign proposal for a naval blockade in North Africa. The aim was to hinder human traffickers from using the Mediterranean as a route for their smuggling operations. Meloni was present in Tunis in June when the president of the European Commission signed an agreement with the Tunisian government. This agreement involved providing economic assistance in return for assistance in preventing departures.
Years ago, a comparable agreement was made with Libya, which has been heavily criticized by human rights organizations for breaching international maritime law. These groups argue that Libya is not a secure port and that migrants intercepted by the Libyan coast guard are sent back to detention centers where they face widespread mistreatment.
Meloni accompanied Commission President Ursula von der Leyen on a visit to Lampedusa on Sunday. Meloni's supporters were pleased with the firm stance taken by von der Leyen.
---
Italy is considering implementing stricter measures to address the issue of migrants, including the possibility of a naval blockade to prevent the departure of boats.
---
"I cannot reword"
The plan proposes a potential "working agreement between Tunisia and Frontex," the European Union border force that currently aids in search and rescue operations in the Mediterranean using air and sea resources. It also suggests the establishment of a coordinating task force within Europol.
On Monday, Commission spokeswoman Anitta Hipper stated that the Commission has not dismissed the idea of considering a naval blockade. She mentioned that they have expressed their support for Italy's suggestion to investigate these possibilities.
Under the deal von der Leyen signed with Tunisia, the EU pledged to provide funds for equipment, training and technical support "to further improve the management of Tunisia's borders." For example, the funds are helping to pay for the refurbishment of 17 vessels belonging to Tunisian authorities.
The most recent surge is posing a challenge to the cohesion of the EU, its member nations, and even Meloni's government, which is led by the far-right. This is particularly significant as the European elections are approaching. Certain member countries have raised objections regarding the manner in which von der Leyen implemented the Tunisia plan, expressing dissatisfaction with the lack of proper consultation.
However, there is controversy even in Italy. Matteo Salvini, the Vice Premier and leader of the right-wing League party, has questioned the effectiveness of Meloni's EU-Tunisia agreement. He also welcomed Marine Le Pen, the leader of the French right-wing party, to a League rally in northern Italy on Sunday. Just a few days before that, Marion Marechal, Le Pen's niece and a far-right politician, criticized the French government's handling of the migration problem while on Lampedusa.
Emmanuel Macron's administration in France has adopted a more conservative stance on migration and security matters. In light of this, Gerald Darmanin, the interior minister, is scheduled to visit Rome for discussions. Prior to his departure, Darmanin stated that France would assist Italy in safeguarding its border to prevent new arrivals, but was not willing to accept migrants who have recently reached Lampedusa.
"I cannot reword."
"I cannot reword."
___
Cook provided coverage from Brussels while Charlton provided coverage from Paris.
Copyright © 2023 The Washington Times, LLC.