Make Sure You Aren't Using a Scammy ChatGPT Knockoff
I have to give the OpenAI team props for using haptic feedback so well in the iOS app. When you first boot it up, its introductory messages are all perfectly synced with haptic vibrations, as are all of ChatGPT's responses. It's not necessarily important, but I'm a sucker for that level of attention to detail.
Aside from that, it's essentially the ChatGPT experience you already know, optimized for iOS. If you subscribe to ChatGPT Plus for $20 per month, you can access perks like GPT-4, priority access to ChatGPT, access to beta features, and faster speeds.
The two omissions at the moment are plugin support, which could be tricky on a mobile app in any case, and an Android version, which OpenAI vaguely says is "next." You can download the official iOS ChatGPT app here. Just make sure that's the one you're downloading.
There are a lot of fake ChatGPT apps out there
If you search for ChatGPT on the App Store or Play Store, you'll find an endless sea of options vying for your attention. But there's only one official ChatGPT app, and it's only on iPhone.
As you can probably guess, 99% of these apps are third-party garbage. We covered one of them earlier this year, based on reporting by MacRumors. "ChatGPT Chat GPT AI With GPT-3″ (nothing suspicious there) enticed curious customers with a free download, as well as branding that made it look like an official OpenAI app at first glance. Of course, that wasn't true at all.
In short, the app offered you access to ChatGPT on their terms, which meant they could put barriers that didn't exist with the real deal, including placing limits on the number of queries you could ask as well as showing you ads. It charged $7.99 per week, or $49.99 per year, for a service that you could get for free.
The app was removed from the iOS App Store and Google Play Store back in January, but the original App Store link now brings you to an "AI Chat – Chatbot AI Assistant" app with similar branding. It comes with a three-day free trial, then charges $69.99 for the year. (I guess even scamming isn't immune to inflation.)
This is just one example of the BS users have to deal with when looking for a ChatGPT app. While OpenAI's app now ranks at the top of a "ChatGPT" search, it still falls below one of Apple's ads, which is usually pushing another fake ChatGPT app.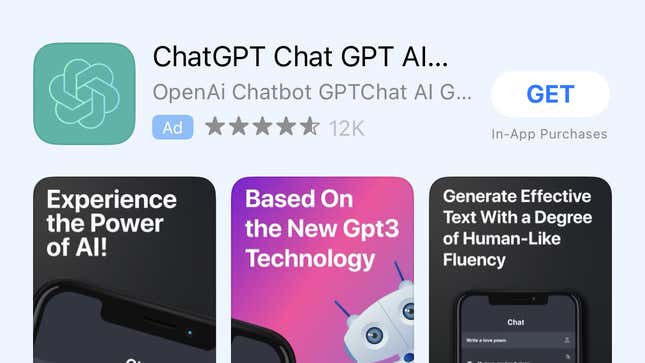 Ignore the junk: You can download OpenAI's ChatGPT app right now, and check out what the AI hullabaloo is all about. If you want to pay for it, you can, and you'll receive some great perks for your money. But you can also get a full AI experience without paying OpenAI (or a scammer) a dime.