McCarthy unconcerned about job security despite relying on Democratic votes to approve temporary spending measure.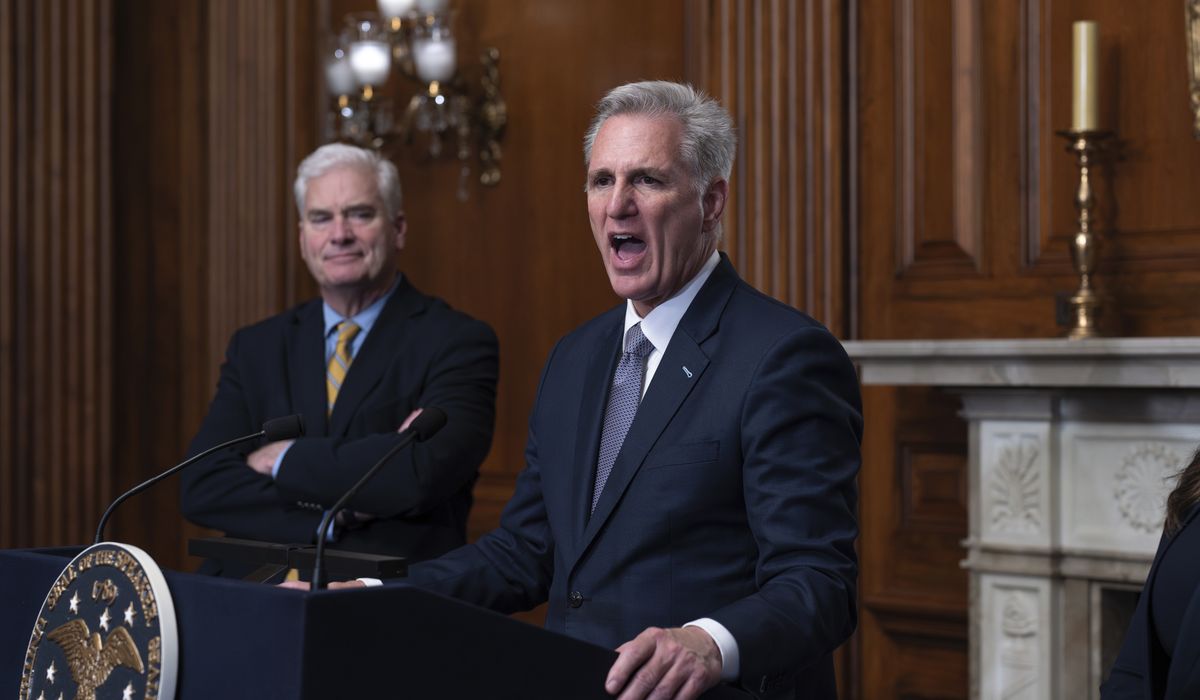 House Speaker Kevin McCarthy boasted about gaining enough support to pass a 45-day stopgap spending measure requiring Democrat votes to pass the lower chamber.
However, ninety-one Republicans, many of whom are members of the conservative Freedom Caucus, voted against the measure, and the vote's passage could cause a revolt against his speakership next week.
Mr. McCarthy, California Republican, however, is confident he will weather any storm from Republicans disappointed eight lingering appropriation spending bills were not passed before the temporary spending bill was approved.
---
---
"We put a bill on the floor under suspension. So there is no bill that can pass without one party or the other. When are you guys going to get over that it's all right to put America first. That it's all right that Republicans and Democrats joined together to do what is right," he said.
"If somebody wants to make a motion against me, bring it. There has to be an adult in the room. I'm going to govern with What is the best for this country," he said.
Rep. Matt Gaetz told reporters Saturday that House Speaker Kevin McCarthy's speakership is on shaky ground over a failure to bring his conference to pass twelve spending measures.
However, the Florida Republican has yet to announce a motion to vacate the chair that would oust him from the speakership.
"I would say it's on some tenuous ground," said Mr. Gaetz, Florida Republican.
Mr. Gaetz said that there was "nothing" about delaying the process of the passage of the 12 spending bills that is being the adult in the room.
"What would have been the adult in the room is putting up our spending bills in the spring and in the summer, being the adult in the room would have realized that we shouldn't have then taken August, outside of Washington, D.C.," he said.
The California Republican referenced Mr. Gaetz who stood against him for the speakership back in January, when Mr. McCarthy captured the speakership in a historic 15 ballot rounds.
"I went 15 rounds, the same individuals that voted against us even having a more conservative stop calculation. The same individual that delayed us from ever getting all of our approps bill done did the same thing during the speaker's race," he said.
The bill to extend current levels of government funding for 45 days passed in a 335-91 vote, with all the no votes cast by Mr. House Republicans.
The bill was reportedly hotlined, meaning it will bypass regular Senate order, to the upper chamber for an immediate vote.