Meneses' pinch-hit three-run homer sends Nationals past White Sox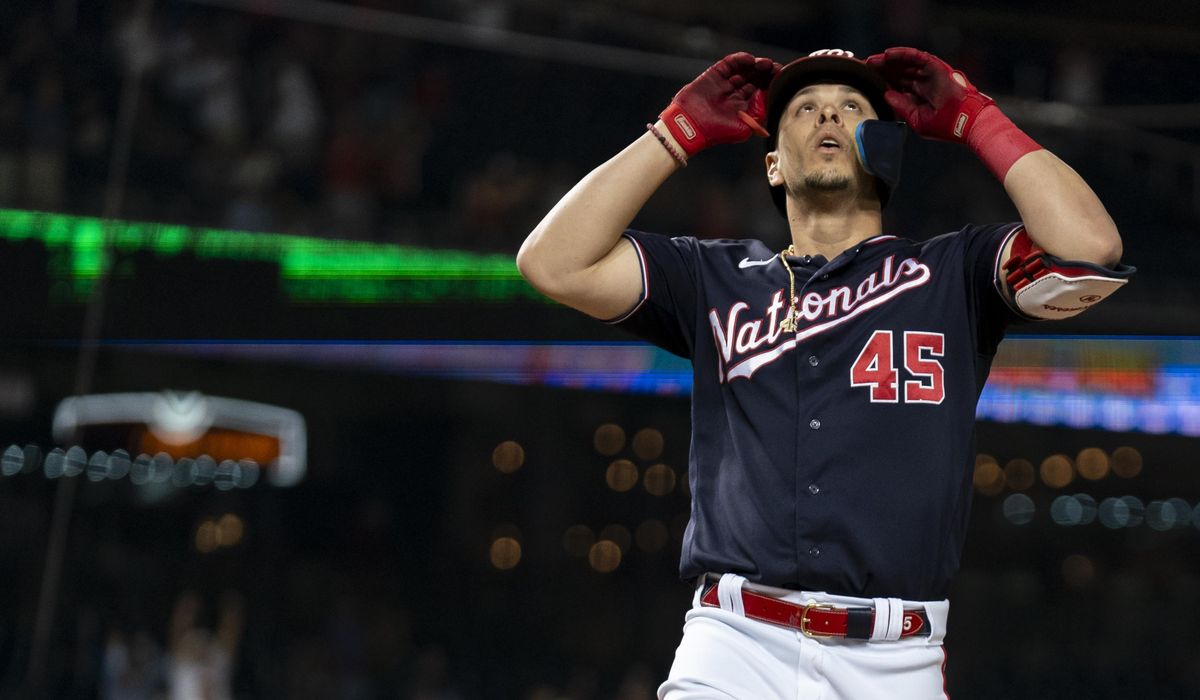 On Tuesday night, the Washington Nationals emerged victorious over the Chicago White Sox with a score of 4-3, thanks to Joey Meneses' three-run home run during the seventh inning.
In his inaugural home game for Washington, Jackson Rutledge, a previous first-round pick, gave up two runs over 6 1/3 innings. The Nationals, who had suffered six defeats in their last seven games, were in need of a win.
Chicago, who has experienced a loss in eight out of eleven games and thirteen out of eighteen, witnessed home runs from Luis Robert Jr. and Yoán Moncada.
---
---
In the seventh inning, Washington took the lead after the White Sox made a pitching change. Aaron Bummer, a left-handed pitcher with a record of 4-5, allowed two out of four batters to get on base. He was then replaced when Meneses, a right-handed hitter, was announced as a pinch hitter for Blake Rutherford.
Meneses remained in to face right-hander Bryan Shaw and lifted a 1-1 slider into the visitors' bullpen in left-center for his 12th home run of the season.
Kyle Finnegan allowed a run in the ninth inning due to Moncada's RBI single with one out, but he managed to prevent any additional harm and secured his 26th save.
Rutledge, the franchise's first-round pick in 2019, made his first start at Nationals Park. While it was smoother than his big-league debut Wednesday at Pittsburgh, when he allowed seven runs in 3 2/3 innings, he had two missteps on the first pitch of an inning.
Robert led off the fourth with his second home run in as many nights, launching a changeup to left to open the scoring. It was Robert's 36th homer of the season, second in the American League behind Los Angeles' Shohei Ohtani.
Moncada blasted Rutledge's first offering of the seventh to right to put Chicago up 2-1. Rutledge got Andrew Vaughn to ground out, then was lifted after yielding six hits and a walk. He struck out two.
Robert Garcia, with a record of 2 wins and 2 losses, took over for Rutledge and successfully retired the two batters he faced.
White Sox starter José Ureña took a shutout into the sixth before surrendering Jacob Young's leadoff triple and Lane Thomas' sacrifice fly two batters later. Ureña allowed a run and four hits in six innings.
TRAINER'S ROOM
Cade Cavalli, a right-handed pitcher for the Nationals, recently participated in his first catch session since his Tommy John surgery in March. He threw 25 times from a distance of 45 feet and described the experience as "awesome." Meanwhile, Travis Blankenhorn, an outfielder for Washington, was placed on the 10-day injured list due to plantar fasciitis. In his place, Blake Rutherford, another outfielder, was called up from Triple-A Rochester. Blankenhorn had a batting average of .161 with one home run and one RBI in 10 games this month. Additionally, Jake Alu, an infielder/outfielder, did not play due to a sore left thumb.
UP NEXT
White Sox: RHP Jesse Scholtens (1-9, 4.77 ERA), who is 0-6 with a 6.00 ERA in nine starts since becoming a regular member of Chicago's rotation Aug. 1, takes the mound as the three-game series concludes.
Nationals: RHP Josiah Gray (7-12, 4.07) is winless in eight starts since July 27 but did strike out a season-high 10 in a 2-0 loss Thursday at Pittsburgh in his last outing.
Copyright © 2023 The Washington Times, LLC.