The Chinese military has deployed a large number of jets near Taiwan.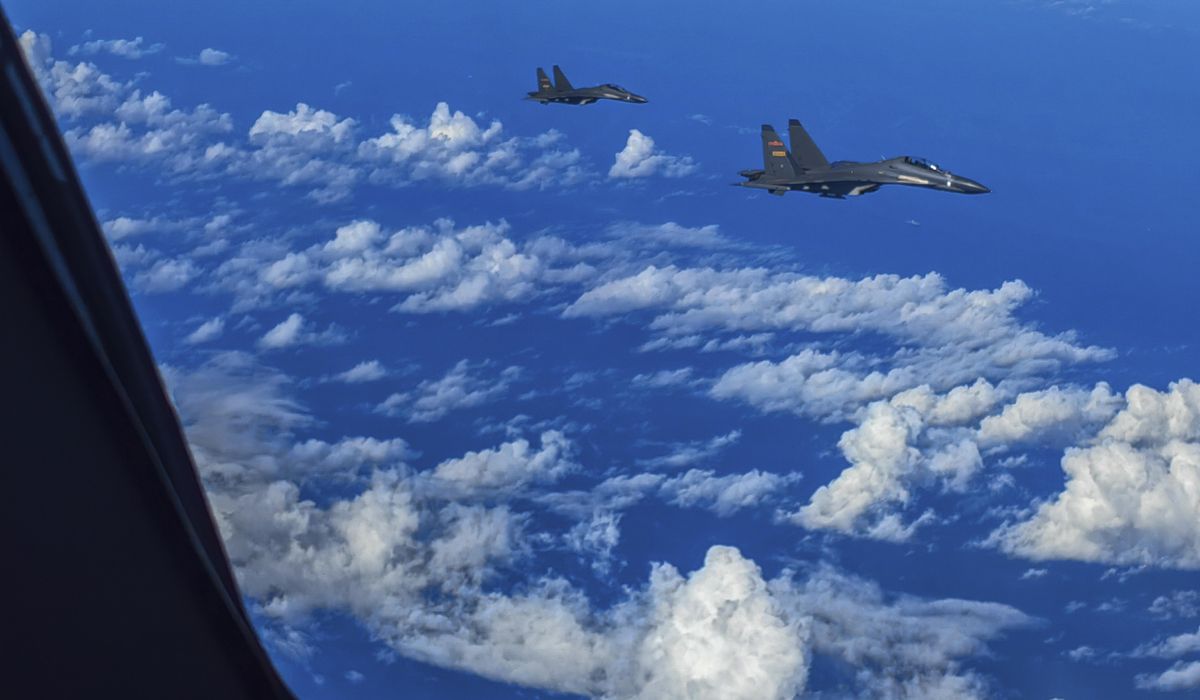 Over the weekend, China's military increased its provocative military activities near Taiwan by flying more than 100 military aircraft close to the democratic island that it has expressed intentions of eventually seizing.
On Sunday, the Taiwan Defense Ministry shared on X (formerly known as Twitter) that a sum of 103 jets was detected. Out of these, 40 planes crossed the median line situated in the middle of the Taiwan Strait, which spans 100 miles. Additionally, the ministry reported the sighting of nine PLA navy vessels.
The Chinese warplanes included 10 Su-30s, 12 J-10s, four J-11s, 10 J-16s, two Y-20 refueling tankers and two KJ-500 warning and control jets.
---
---
The latest demonstration followed major PLA war games around Taiwan from Sept. 11 to Sept. 15 that included 20 warships, among them the aircraft carrier Shandong and two other action groups of destroyers and frigates. Taipei said that in response Taiwanese jets were scrambled, naval vessels deployed, and land-based missile systems activated.
Until recently, adhering to the unspoken boundary in the sea between Taiwan and mainland China was crucial in preserving a delicate balance. Experts argue that China's recent actions of crossing the median line demonstrate their intent to disrupt the status quo, despite numerous objections from the United States and Taiwan.
China's recent military actions over the weekend seem to be a deliberate effort to assert its control over the disputed maritime territories, which the U.S. and smaller countries in East Asia strongly oppose.
Chinese vessels recently fired a water cannon at a Philippines ship seeking to resupply a grounded naval vessel in the Spratly Islands being used as a military base.
According to the Yomiuri Shimbun, the Japanese government has expressed its objection to China placing an oceanographic buoy within Japan's exclusive economic zone near the Senkaku Islands. The buoys are being utilized to gather information that could assist in guiding coast guard ships, monitoring aspects like wave size and current. This information was relayed by government sources.
China and Japan have been in a longstanding dispute regarding the ownership of the uninhabited islands.
Chinese state media referred to the warplane flights near Taiwan on Sunday as "record-breaking." These flights occurred simultaneously with a significant war game exercise involving 20 naval vessels from the PLA around the island.
The large-scale warplane and naval activity also appeared timed to coincide with meetings between White House National Security Adviser Jake Sullivan and Chinese Foreign Minister Wang Yi. Taiwan was a major topic of the talks, a senior Biden administration official told reporters Sunday.
The two days of secret meetings that ended Sunday were held on the Mediterranean island nation of Malta. Mr. Wang then flew on to Moscow for talks with top Russian leaders.
According to a statement from the White House, the objective of the Malta talks was to enhance communication and uphold relations during periods of tension.
"The statement mentioned that there were open, meaningful, and productive conversations between both parties. It highlighted the initiation of a reset initiative during a meeting in November 2022 between President Biden and Chinese President Xi Jinping in Bali, Indonesia. The discussions covered important subjects such as Taiwan and the conflict in Ukraine."
Mr. Wang reportedly conveyed to Mr. Sullivan, according to Chinese state media, that Taiwan is an inviolable "red line."
On August 31, Senior Colonel Wu Qian, a spokesperson for the PLA, justified the recent Chinese military exercises near Taiwan by stating that their purpose was to discourage internal separatist groups in Taiwan and prevent any potential foreign interference.
Col. Wu cautioned the authorities of the Democratic Progressive Party against futile attempts to resist change. He specifically mentioned the party's current control in Taipei and urged them to avoid making misguided decisions.
The unannounced deployment of more than 100 aircraft in a single day, as reported by the Global Times, a newspaper affiliated with the Chinese Communist Party, suggests the initiation of a significant operational campaign.
Fu Qianshao, a retired PLA air force officer, told the paper that the large number of forces around Taiwan are a sign that combat-oriented exercises reached a new level and "can be turned into real action at any time if necessary."