The failure of the recent talks between Kosovo and Serbia is attributed by Kosovo's prime minister to the EU envoy.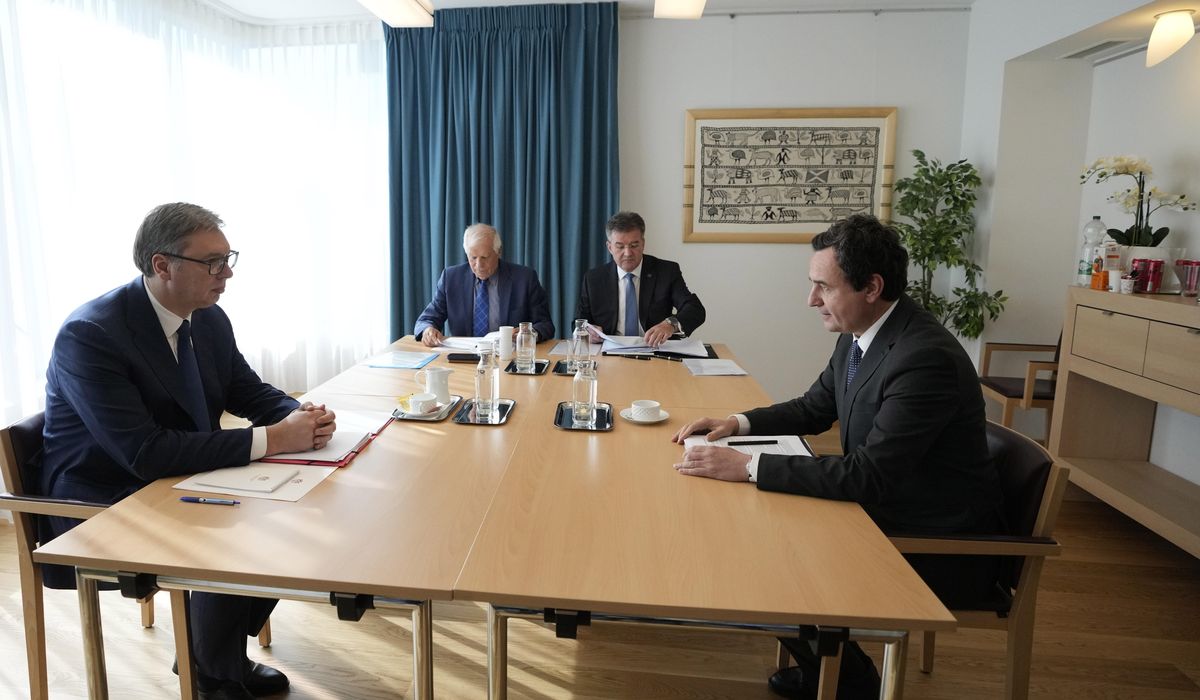 PRISTINA, Kosovo (AP) — Kosovo's prime minister on Monday accused the European Union special envoy in the normalization talks with Serbia of not being "neutral and correct" and "coordinating" with Belgrade against Pristina.
Prime Minister Albin Kurti said EU envoy Miroslav Lajcak had coordinated with Serbia's President Aleksandar Vucic in the EU-facilitated talks held last week in Brussels.
EU foreign policy chief Josep Borrell, who supervised the talks in Brussels, blamed the latest breakdown on Kurti's insistence that Serbia should essentially recognize his country before progress could be made on enforcing a previous agreement reached in February.
---
---
Borrell has cautioned that the absence of advancement may negatively impact the aspirations of both Serbia and Kosovo to become part of the bloc.
Serbia and Kosovo, a former province, have had ongoing conflicts for many years. The war between them in 1998-1999 resulted in over 10,000 deaths, primarily among Kosovo Albanians, and concluded when NATO bombings compelled Serbian military and police forces to withdraw from Kosovo.
Belgrade has refused to acknowledge Kosovo's declaration of independence in 2008.
In February, the European Union presented a plan consisting of ten points to resolve the ongoing political crises. Kurti and Vucic initially agreed to the plan, but they expressed some concerns that remain unresolved until now.
On Monday, Kurti said Kosovo had offered a step-by-step proposal for the implementation of the agreement reached in February. Serbia has never offered any proposal while Lajcak brought out an old Serbian document they had turned down earlier.
Kurti stated during a press conference that the negotiations are divergent because of the mediator's lack of neutrality.
"He stated that the envoy, Lajcak, goes against the basic agreement and is not impartial or accurate, therefore, we do not require such a one-sided representative."
Kurti expressed his disapproval of Borrell and Lajcak, who serve as EU representatives, for their lack of response to Serbia's ongoing disregard of the February agreement regarding Kosovo.
He stated that it was necessary to consult with Brussels, Washington, and other key participants in order to resume the negotiations successfully.
"He stated that we need to revisit the fundamental agreement and determine how to implement it. The violation committed by Serbia has been supported rather than penalized, contrary to what the agreement specifies."
In August, senior lawmakers from the United States – the other diplomatic power in the process – warned that negotiators weren't pushing the Serbian leader hard enough. They said that the West's current approach showed a "lack of evenhandedness."
In May, there was a conflict regarding the legitimacy of local elections in the Serbian-majority region of northern Kosovo. Serbs engaged in clashes with security forces, which included peacekeepers from NATO-led KFOR. As a result, 93 troops were injured.
Many people in the Western countries are concerned that Moscow might exploit Belgrade to revive ethnic tensions in the Balkans. This region witnessed violent conflicts in the 1990s as Yugoslavia disintegrated. The purpose would be to divert global focus from the ongoing war in Ukraine.
___
Llazar Semini provided coverage from Tirana, Albania.
Copyright © 2023 The Washington Times, LLC.