The judge will schedule a hearing to consider the request of a former DOJ official to transfer the Georgia election case to a federal court.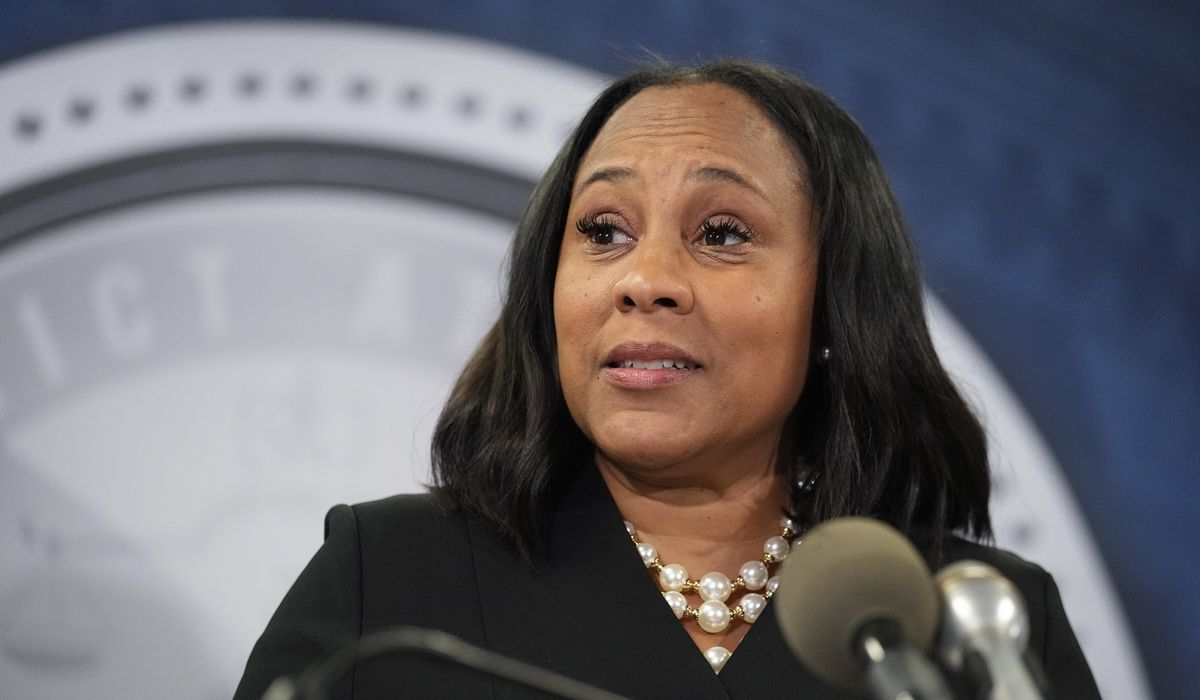 ATLANTA (AP) — A federal judge who rejected efforts by former Trump White House Chief of Staff Mark Meadows to move his charges in the Georgia election subversion case to federal court is set to hear arguments Monday from former Justice Department official Jeffrey Clark on the same issue.
Fani Willis, the District Attorney of Fulton County, has alleged that Clark and Meadows, along with former President Donald Trump and 16 others, were involved in a comprehensive plan to invalidate Joe Biden's win in the presidential election and maintain Trump's position of power. The indictment consists of 41 charges, including violations of the state's anti-racketeering legislation. All 19 individuals accused have entered pleas of not guilty.
Clark is one of five defendants seeking to move his case to federal court. U.S. District Judge Steve Jones, who will preside over Monday's hearing, rejected Meadows' attempt for removal earlier this month, saying the actions outlined in the indictment were taken on behalf of the Trump campaign and were not part of his official duties. While the ruling could signal an uphill battle for Clark and the others, Jones made clear he would assess each case individually.
---
---
Moving the case to federal court would have practical implications such as a wider jury pool that encompasses more than just Fulton County, which is predominantly Democratic. Additionally, the trial proceedings would not be televised or photographed since federal courtrooms prohibit cameras. However, this move would not enable Trump or any future president to grant pardons, as any convictions would still be based on state law.
According to the indictment, Clark penned a letter following the November 2020 election, claiming that the Justice Department had discovered noteworthy issues that could have influenced the election results in various states, including Georgia. He then requested high-ranking department officials to endorse and forward the letter to Governor Brian Kemp of Georgia and leaders in the state legislature. The indictment asserts that Clark was aware of the falsity of this statement when he made it.
In a legal document requesting the transfer of charges against him from Fulton County Superior Court to federal court, Clark's lawyers argued that the actions described in the indictment directly pertain to his duties at the Justice Department and his involvement with the former President of the United States. Clark held positions as the assistant attorney general in charge of the environment and natural resources division and as the acting assistant attorney general for the civil division during that period.
Clark's lawyers argued that the State does not have the power to make it illegal to provide advice to the President from a high-ranking Justice Department official regarding law enforcement policy, simply because a County District Attorney disagrees with the content or formation of that advice.
Willis, a member of the Democratic party, was accused of targeting political opponents. They claimed that the prosecution was not conducted in good faith, but rather as a politically motivated attempt to discredit him, using a lengthy 98-page document to create a false sense of importance and seriousness.
Prosecutors contended that Clark's dual positions did not grant him any power or control over electoral matters or criminal inquiries.
Prosecutors stated in their response that high-ranking department officials informed him that the main assertion in his letter was incorrect, that he lacked the authority to make such a claim, and that it fell outside the department's jurisdiction. Richard Donoghue, the acting deputy attorney general, expressed that the letter was essentially the Department interfering in a presidential election.
Prosecutors stated that the purpose of the law that permits federal officers to transfer a case to federal court is to safeguard genuine federal authority from interference by state and local entities. It is not intended to provide individuals who clearly intended to misuse federal authority with a platform to interfere in state-controlled matters.
Meadows, who is appealing Jones' ruling, took the stand and testified for nearly four hours last month, answering questions from his own lawyer, a prosecutor and the judge. He talked about his duties as Trump's last chief of staff and sometimes struggled to recall the details of the two months following the election.
It is uncertain if Clark will opt to give testimony as well. On Thursday, his attorneys submitted a 10-page affidavit from Clark, detailing his tenure in the Justice Department. This may serve as an alternative to him testifying and being subjected to questioning from prosecutors.
Clark was also identified as one of six unnamed co-conspirators in an indictment filed by special counsel Jack Smith charging Trump with seeking to illegally overturn the results of the 2020 election and block the peaceful transfer of power to Biden. He has not been charged in that case.
In the summer of 2022, Clark's residence in Virginia was searched by federal agents. A video surfaced showing him standing in his driveway, restrained with handcuffs and not wearing any pants.
Copyright © 2023 The Washington Times, LLC.