The Orioles, who are headed to the playoffs, have achieved one of the most remarkable two-year advancements in baseball.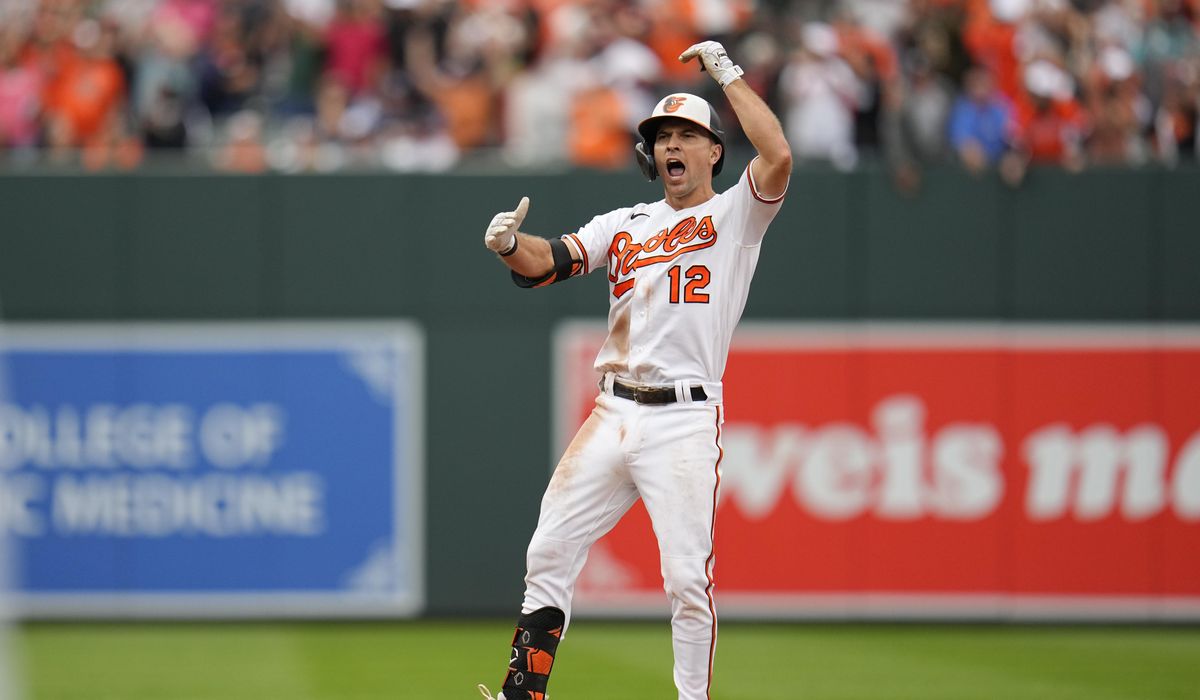 There are certain statistics that support the notion that the Baltimore Orioles have achieved something significant in recent years.
Following their victory over Tampa Bay in extra innings on Sunday, the Orioles, who currently lead the AL East, started Monday with a record of 93-56, resulting in a winning percentage of .624. Two years ago, their season concluded with a record of 52-110, equating to a winning percentage of .321. According to Sportradar, there has only been one team in history that managed to enhance their winning percentage by .300 or more within a span of two seasons.
That was the New York Giants, way back at the beginning of the modern era. They went from 48-88 (.353) in 1902 to 106-47 (.693) in 1904. Their improvement of .340 will remain the record for at least a little longer because it's mathematically impossible for the Orioles to surpass it this year. But Baltimore, which clinched a playoff berth Sunday, could still join the Giants with an improvement of over .300.
---
---
There's actually a Baltimore connection to those New York Giants. One of the moves that helped turn the Giants around at the beginning of the 20th Century was hiring John McGraw away from the Orioles as player-manager in 1902. The Baltimore franchise then moved to New York and became the Highlanders, who would eventually be called the Yankees.
Some other big two-year improvements:
The Boston Braves experienced a significant turnaround in their performance from 1912 to 1914. They went from having a record of 52-101 (.340) in 1912 to an impressive 94-59 (.614) in 1914. The team, known as the "Miracle Braves," had a rough start in 1914 with a record of 26-40. However, they made a remarkable comeback and ultimately won both the pennant and the World Series.
The Boston Braves went from having a record of 38-115 (.248) in 1935 to 79-73 (.520) in 1937. In Babe Ruth's final season with the team in 1935, he played 28 games and had a batting average of .181. Following that, the franchise temporarily changed its name to the Bees and managed to achieve a winning record within a few years.
The Cincinnati Reds experienced a significant improvement in their performance, going from a win-loss record of 56-98 (.364) in 1937 to 97-57 (.630) in 1939. This remarkable progress culminated in the team winning a pennant in 1939 and ultimately securing a World Series championship in 1940.
The New York Yankees experienced a significant improvement in their performance, going from a win-loss record of 69-85 (.448) in 1925 to 110-44 (.714) in 1927. The 1925 season was an anomaly due to Ruth's limited participation in only 98 games, but the team managed to win the pennant in the following three years.
CHASING 60
Freddie Freeman from the Los Angeles Dodgers has the opportunity to achieve a remarkable feat by hitting 60 doubles in a season, a record that has not been accomplished since 1936. Currently, he has 55 doubles with a few weeks left in the season. In 1936, Joe Medwick achieved 64 doubles, while Charlie Gehringer hit 60. The highest number of doubles in a season is 67, achieved by Earl Webb in 1931.
Six players have made it to 60. More recently, Todd Helton hit 59 in 2000 and Nick Castellanos reached 58 in 2019.
TRIVIA TIME
The Rays secured a spot in the postseason despite their defeat against the Orioles on Sunday. This marks their fifth consecutive appearance in the playoffs. They have now joined the ranks of the eight franchises in the wild card era that have achieved a streak of at least five consecutive playoff appearances. Can you name the other seven?
LINE OF THE WEEK
Brandon Woodruff of Milwaukee achieved a shutout against Miami, resulting in a 12-0 win on Monday. This marked his initial complete game consisting of nine innings, as he had previously thrown a seven-inning complete game in 2020.
Woodruff is 5-1 with a 1.89 ERA in 10 starts this season, and his return in August from shoulder problems occurred right around the time the Brewers started taking control in the NL Central.
COMEBACK OF THE WEEK
On Wednesday, San Francisco managed to overcome a four-run deficit and emerged victorious with a 6-5 win over Cleveland in 10 innings. When they were trailing 5-1 in the seventh inning, the Giants' chances of winning were estimated to be only 3.7% by Baseball Savant.
Wilmer Flores drove in a run with a single in the seventh inning, followed by J.D. Davis hitting a three-run home run in the eighth to even the score. LaMonte Wade Jr. secured the victory with a sacrifice fly.
TRIVIA ANSWER
The accomplishment has been achieved twice by both the New York Yankees and Atlanta. Cleveland, Houston, St. Louis, Philadelphia, and the Los Angeles Dodgers have achieved it once.
Copyright © 2023 The Washington Times, LLC.