The United Nations cautions that the occurrence of a disease outbreak in the flooded eastern region of Libya has the potential to initiate "another catastrophic crisis."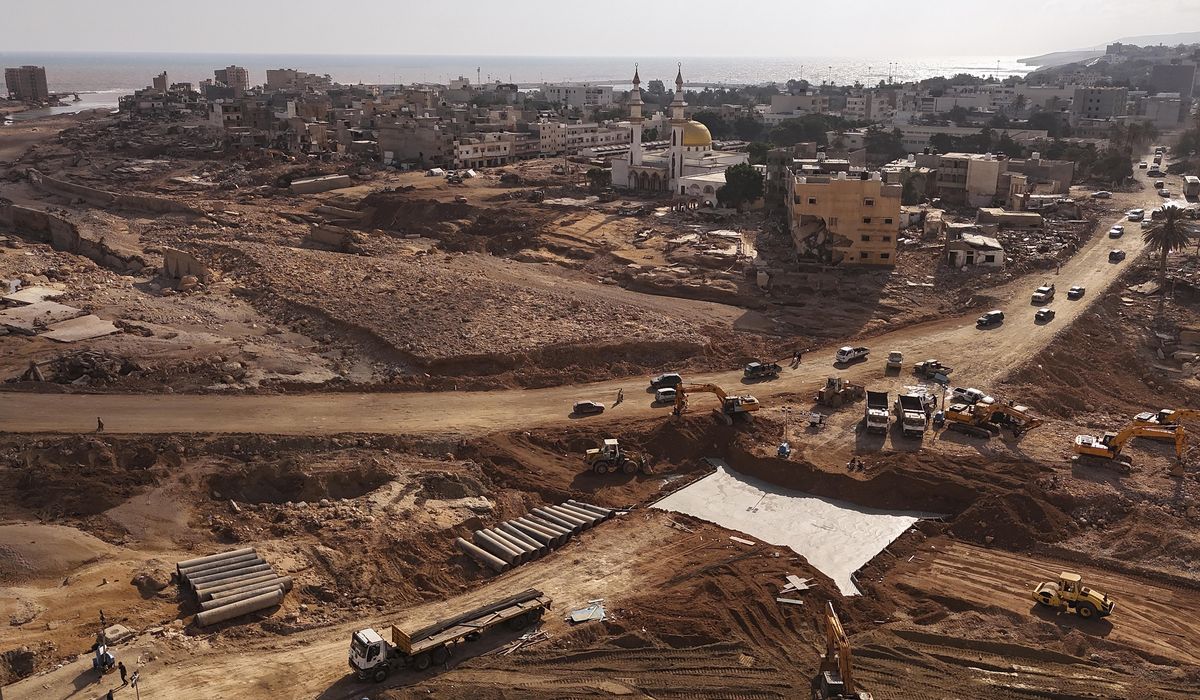 Officials issued a warning on Monday about a potential second crisis in Libya's northeast due to a disease outbreak. The region has already suffered from severe floods that claimed thousands of lives. The spread of diarrhea among individuals who consumed contaminated water is a major concern.
The United Nations Support Mission in Libya expressed its worry regarding the pollution of water and the absence of proper sanitation following the collapse of two dams during the Mediterranean storm Daniel. This resulted in a massive flood in the city of Derna on September 11. The number of casualties has been inconsistent, with estimates from government officials and aid organizations ranging from approximately 4,000 to 11,000 deceased individuals.
Nine United Nations agencies are collaborating to prevent the outbreak of diseases and avoid further turmoil in the devastated nation. The World Health Organization is providing 28 tons (25 metric tonnes) of medical supplies to support this effort.
---
---
Haider al-Saeih, head of Libya's Center for Combating Diseases, said in televised comments Saturday that at least 150 people suffered diarrhea after drinking contaminated water in Derna. No further updates have been given.
Citizens residing in the neighboring cities of Benghazi and Tobruk have extended their hospitality to accommodate those who have been displaced. Meanwhile, dedicated volunteers are diligently searching for any survivors trapped under the debris.
The catastrophe has resulted in a unique sense of solidarity in Libya, a country abundant in oil resources, that has been split between opposing governments since 2014. These governments are supported by foreign sponsors and armed factions, whose power within the nation has significantly grown following a NATO-supported revolution known as the Arab Spring, which overthrew the authoritarian leader Moammar Gadhafi in 2011.
---
PHOTOS: UN warns disease outbreak in Libya's flooded east could spark 'a second devastating crisis'
---
Both opposing governments have sent teams focused on providing humanitarian aid to the port city and other areas that have been affected. However, their efforts have been hindered due to challenges in coordinating their actions, difficulties in reaching the most severely impacted regions, and the extensive damage to Derna's infrastructure, including the destruction of multiple bridges.
Footage shot by an Associated Press journalist Monday showed hundreds of Libyan men gathered outside, and atop, a mosque in Derna before a man read a list of demands at the building's entrance. The man called on Libyan authorities to expedite their investigation into the disaster, for the U.N to set up an office in Derna, for urgent reconstruction of the city and compensation for those affected by the flood. After he finished, the hundreds gathered began chanting: "Libya, Libya, Libya."
Mraje Kdour and his three brothers were able to survive the second flood, but unfortunately, their sister did not survive.
"We reached a point near the ceiling where breathing became difficult," Kdour informed the Associated Press.
On Saturday, Libya's general prosecutor, al-Sediq al-Sour, opened an investigation into the collapse of the two dams, built in the 1970s, as well as the allocation of maintenance funds. Derna's mayor, Abdel-Moneim al-Gaithi, was suspended pending an investigation into the disaster.
On Sunday, Othman Abduljaleel, the Health Minister of the eastern government of Libya, announced the initiation of a vaccination campaign targeting diseases commonly associated with post-disaster situations. However, no further details were provided.
The Red Crescent of Libya has reported that a minimum of 11,300 individuals have lost their lives, and another 10,000 are unaccounted for. The U.N. Office for the Coordination of Humanitarian Affairs, which initially provided the same figures, now states significantly lower statistics, indicating approximately 4,000 fatalities and 9,000 missing persons.
As of Sunday night, Othman Abduljaleel, the health minister of East Libya, reported that a minimum of 3,283 bodies had been laid to rest. He did not provide an exact count for the bodies recovered thus far. Nevertheless, during a previous statement on Thursday, he mentioned that over 3,000 bodies had already been buried, with an additional 2,000 bodies still undergoing procedures.
The mayor of Derna stated that the number of casualties might potentially reach 20,000.
The floods have caused worries regarding the state of Ceyrene, an ancient city with Greco-Roman origins located approximately 37 miles (60 kilometers) east of Derna. Ceyrene is among the five UNESCO World Heritage sites in Libya.
On Monday, UNESCO stated that it is communicating with archaeologists present at the site and utilizing satellite imaging to determine the extent of the potential damage.
___
Jeffery provided coverage from London. The report also includes contributions from Associated Press journalists Patricia Simona and Samy Magdy, who reported from Derna and Cairo respectively.
Copyright © 2023 The Washington Times, LLC.